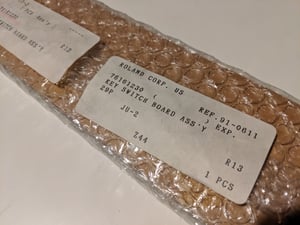 $

80.00
NEW, old stock contact board for Roland Alpha Juno 2. This is a whole assembly including the rubber key contact switches. This will cover the upper 29 notes.
Also compatible with HS-80, and S-50. These are wrapped in their original anti-static packaging and unopened.
NOT COMPATIBLE with JU-1
NOTE: We also have the contact board and contacts available separately. This contact board is the same electronically as the D-50 / W-30 , but will require moving over your old connectors or hard-wiring. The contacts will drop in, no mods required. Please contact us for more info.