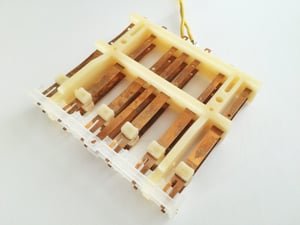 $

39.99
Practically new old stock key contact subassembly for Korg and Moog keyboard assemblies used in Source, Rogue, MG-1 , Prodigy, Liberation and Opus 3 as well as and Korg MS10/20, MAXI/MINIKORG, M500, 900PS, 770, Sigma, PS3100/3200/3300. These are pulled from keyboard assemblies that were never used.

Time and air exposure has left surface spots of blemishing on the copper but it is not corrosion that compromises the structural integrity or the contacts.
These are assemblies of 6 contract switches with plastic subframe and resistors . Please note that there are multiple sizes in this style, and we only have the one type currently.
Once installed, some alignment may be needed.
Installation requires soldering.