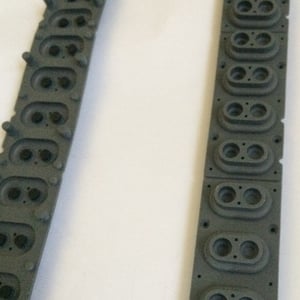 $

18.00
New, old stock rubber key contact switches for Roland D-50. Made By Roland.
These also fit A-50, D-10, D-20, HS-80, JU-2 Alpha Juno 2, JX-10 Super JX, KR-33, MKB-200, RP-80, S-10, S-50 and W-30
Available in both the 12 and 13 contact strip size.
*NOTE- your keyboard may require trimming the contact strip. In most cases this is the 12p contact strip. Consult the service manual for your keyboard.
Some 12pc Strips may arrive pre-cut @ 8 or 4 contacts and are 100% compatible in fit and function. This is how Roland Made them.
Fits SK-361 Keyboard assy